About Tolleson, AZ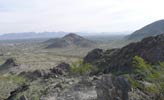 Tolleson, AZ, is a small suburb on the west side of Phoenix, AZ, putting it in an ideal location for vacationers, business travelers, and even those looking for a home close to everything a big city like Phoenix has to offer. The city covers just over 5.5 square miles, and is located right off Interstate 10 some 12 miles from downtown Phoenix. Being in the heart of this area known as the "Valley of the Sun", Tolleson experiences one of the sunniest climates in the world, with over 300 days of sunshine annually, and less than 8 inches of rain.
Many of the Phoenix area's biggest sports and entertainment facilities are all located within 15 miles of Tolleson including the home of the Phoenix Cardinals, University of Phoenix Stadium, Phoenix International Raceway, Jobing.com Arena, home of the Phoenix Coyotes, and Cricket Pavilion.
Even with a population of less than 10,000 Tolleson, AZ has a heavily logistically oriented business base, including one of the nation's largest trucking companies, Swift Transportation who has made the area its western headquarters. Target, Albertson's, Quaker Oats, and many other major food companies also have distribution centers in Tolleson, and interwoven with these large complexes one can still find acres and acres of commercial agriculture producing corn and cotton amongst other commodities.
Local Information
Attractions
West of Phoenix, the small hamlet of Tolleson, AZ resides in the shadows of the Sierra Estrella Mountains. Passing travelers along Interstate 10 have remarked on the warm hospitality of this quiet, family-oriented community.
Shopping
The best location for a variety of shopping choices is found to the northeast of Tolleson – the Desert Sky Mall. Several popular clothing, accessory, jewelry and game stores can be found there.
Dining
Tolleson is a small community with only a handful of dining choices. Most of the choices within the community offer Mexican cuisine. Two of the best places are Irma's Mexican Restaurant and Paul & Rafa's Mexican Restauran.
Transportation
Transportation is a vital component to the running and operation of any town or city on the map. Tolleson, Arizona is certainly no exception to that rule.