Every traveler knows the relief of stepping into a well-designed hotel. The sense of being an outsider in a new or foreign place disappears, and the comfort of a welcoming and cozy suite is just what you need.
Over anything else, hotel rooms should provide comfort and the feeling of a home away from home. No matter how luxurious, beautiful and technology-friendly the room is, comfort is a major factor to consider. Elements such as linens, curtains, a fireplace, and the option to play your guest's favorite shows, movies and music all add to a memorable stay. Color schemes, furniture positioning, lighting, linen and fabric patterns are all skillfully designed to help you enjoy your visit and come back for another. The room needs to appeal not just to its guests' aesthetic sense, but to their state of mind, too.
Design Scheme
Hotel rooms can be either simple or a more elaborate, that will depend on the overall style. Simple color schemes can be luxurious and work well if they can please the guests and to make them feel welcomed. A monochromic scheme is often used in hotel rooms to create a quiet, sophisticated vibe. On the contrary, bold colors and patterns work too if it relates to the style and brand of the hotel. There must be a visual connection carried through the different rooms, and this can be achieved with similar colors, shades, and textures.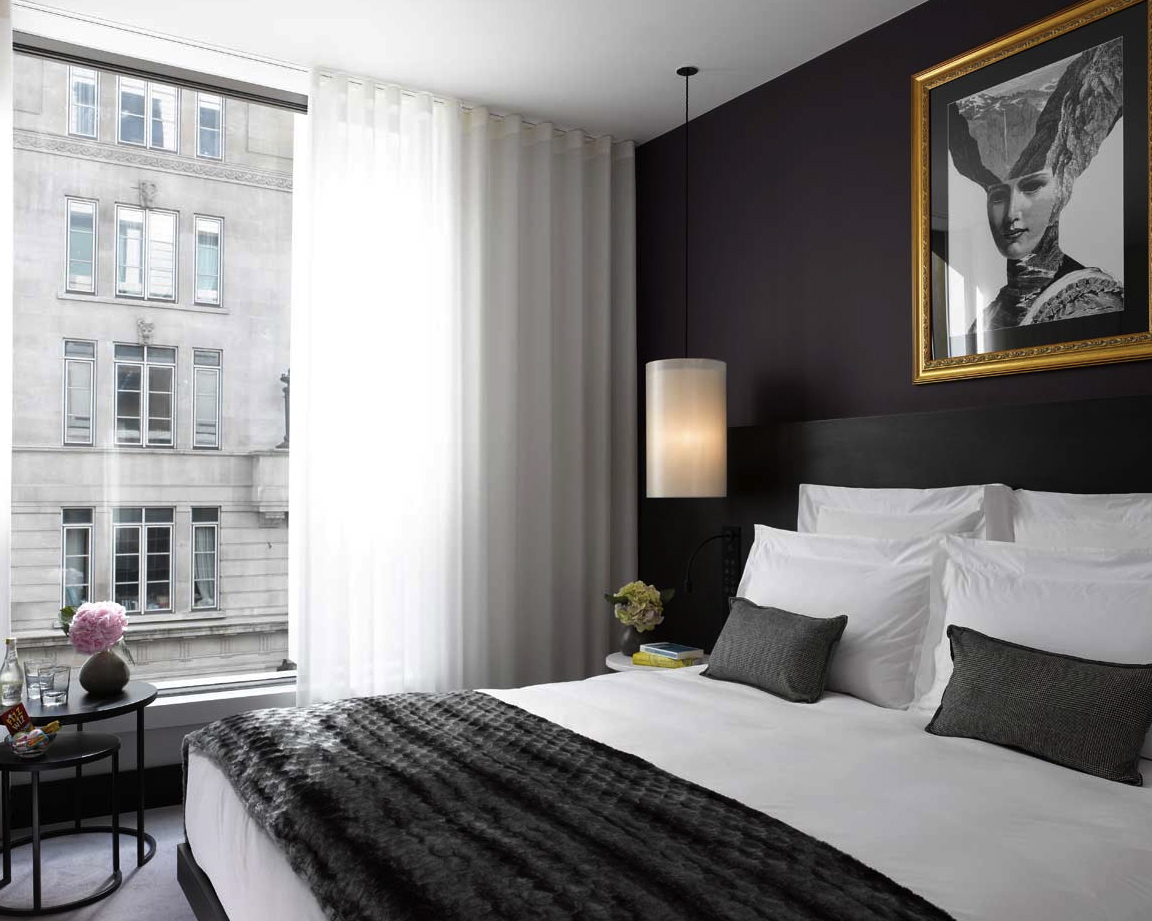 A Monochromatic Hotel Room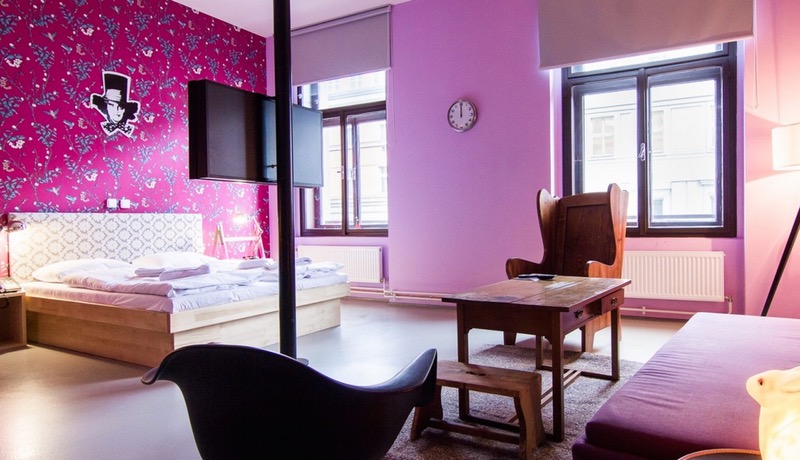 A Bold, Colorful Hotel Room in a hotel inspired by Alice In Wonderland
A clean and uncluttered look is an absolute must. Keep the small décor down to a minimum, guests want ample space for their belongings. In a great hotel design, each room should have at least one central element or focal point that will attract attention. It can be a stunning piece of the art, a cozy fireplace, or a modern TV wall. Focal elements provide rooms with a powerful subject and tells the guest that there is a story behind the way in which the room was designed.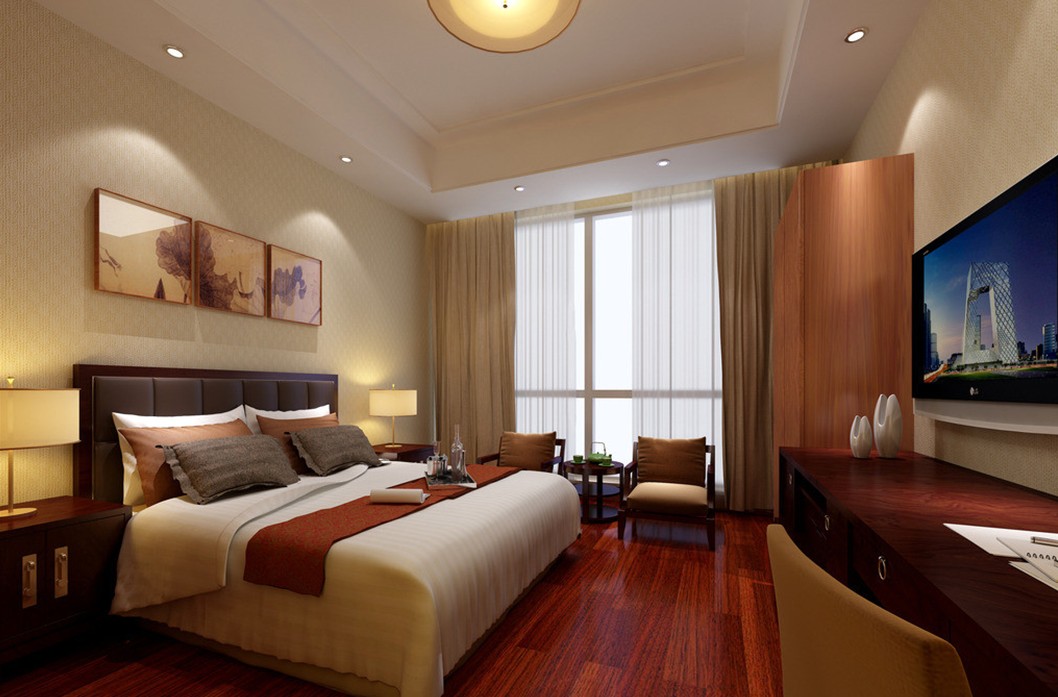 Modern Hotel Room
Flooring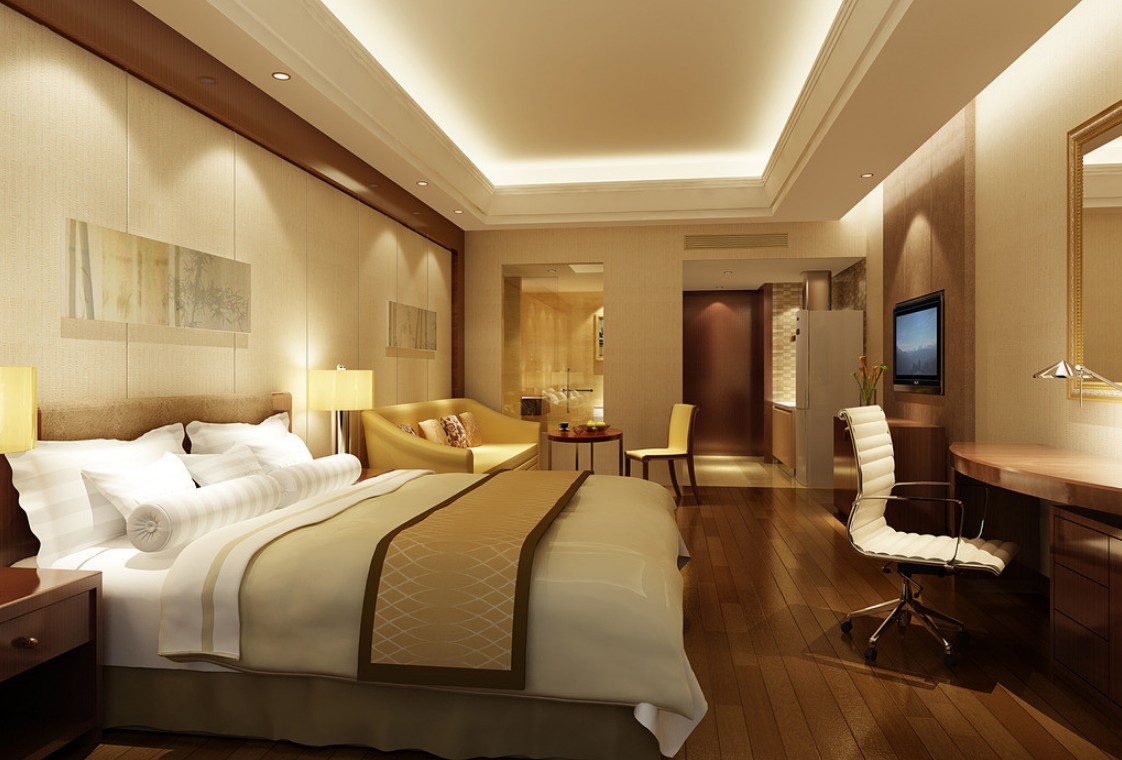 Modern Hotel Room with Wood Flooring
Wood flooring is becoming more popular as carpet is fading out. Wood flooring is usually sleeker looking and more practical. Modern wooden floors with sustainable, insulating chips are suitable for all conditions. It is a perfect solution, because maintaining wood floors is easy, quiet, and inexpensive, unlike dealing with regular vacuuming and cleaning of carpeting.
Window Treatments

Sheers layered with blackout drapes
Window treatments should include blackout shades, whether it's for privacy or for the ability to take a nap, and lighter curtains or drapes, especially if the view is a focal point of the room. It's important that make sure all walls, floors, and ceilings have good sound insulation.
Lighting
Hotels are multi-purpose spaces and lighting design needs to be just as flexible. It needs to serve a practical function, but also create ambiance. Different lighting can boost energy levels, make guests more likely to interact with others, or help them relax and feel at home. Even when perfect illumination has been achieved, accent and task lighting must be added, because guests will need specific lighting in different areas of the room. Adjustable task lighting should be placed next to the bed for reading and getting up at night, and on the desk for working. Accent lighting could be placed above wall art or the vanity. A large mirror should be hung with appropriate lighting above it. Hotel guests are usually rushing to get out the door, and they need a place where they can sit and get ready for the day or night without having to struggle.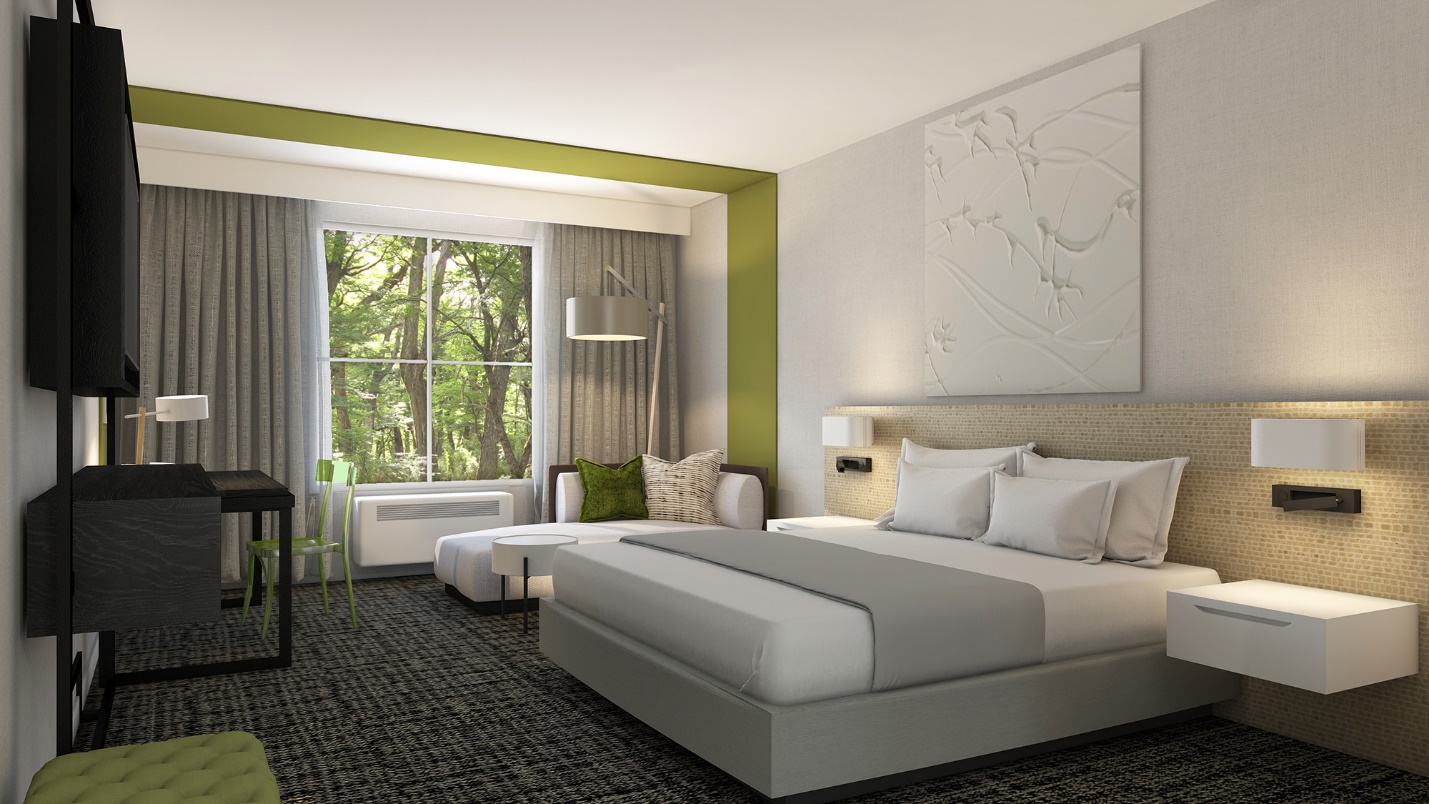 Hotel Room with Various types of Lighting
Guests want to be able to control lighting for varying tasks, scenes or ambiance. Similarly, they want to be able to adjust the natural light coming in by controlling curtain and blinds systems. Lights are not just decorative elements that create a beautiful atmosphere, they are tools that serve the purpose of seeing something properly.
Furniture
Both comfort and function are features of a successful hotel room design that guests appreciate, and what is practical, is beautiful. In smaller rooms, small scale furniture should be used to maximize the space. Beds or seating with ample storage underneath and pull-out desks are common features in a range of hotels. A pull-out sofa or "murphy" bed and dining/work tables are also common. Well thought design renders the possibility of smaller spaces feeling larger, without losing key furniture and guest room amenities.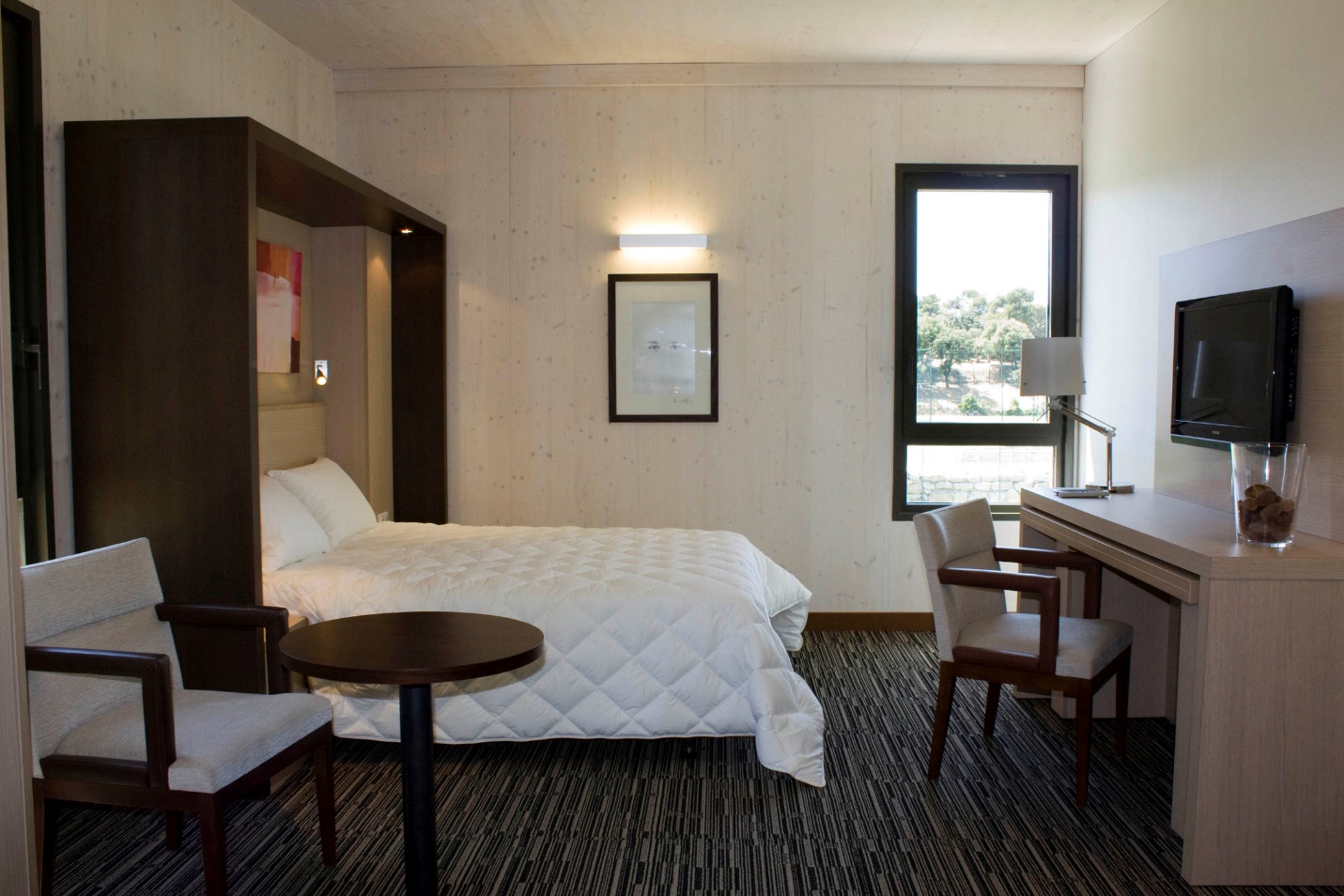 Hotel Room with small-scale furniture and pull-out desk to make it feel larger
Bathroom
Since it's a bathroom that's being used daily, it should be bright and clean, making the guest feel fresh and ready for the day. Many hotels create a spa-like feeling where everything is pretty much white or light neutrals. To carry on the neutral color palette, elements of wood or metal can be added. A bathroom with spa-like amenities invites the guest to an area of relaxation.
En-suite bedrooms, waterfall showers, over-sized bathtubs, double sinks make for a great hotel bathroom. Material options range from high-end marble to eco-friendly materials. Most importantly, the materials need to have an overall resistance to moisture and durability. Additions such as giant towels and ample beauty items finish the design.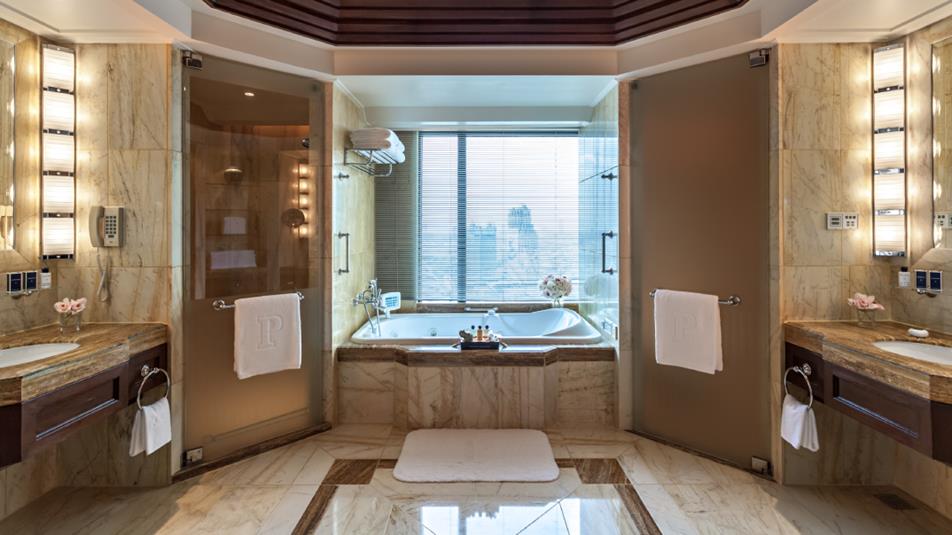 Luxurious Hotel Bathroom Design
Technology
Not everyone is looking for a hi-tech space, when searching for hotels. But for most guests, easy access to technology is important. Technology-friendly rooms encourages work-flow and connectivity, and in the long run, the guests' dependability. This includes fast Wi-fi, ample outlets and charging stations and access to printers. Technology also includes touch-screen control and beside iPads for reading, controls in the room and for streaming music or movies. New hotels also offer the possibility of adjusting lighting, temperature and even blinds and curtains through guests' smartphones.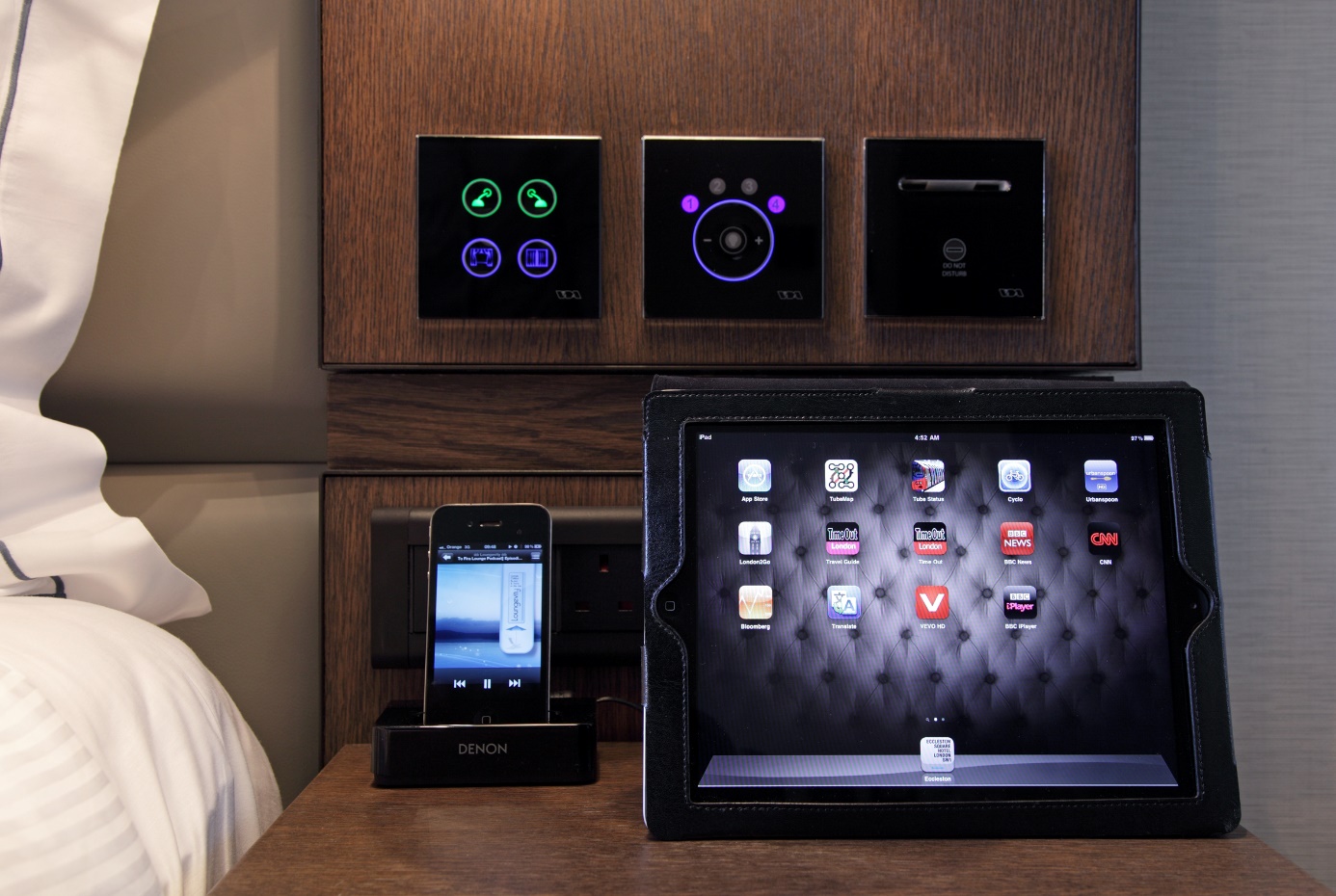 Modern Hotel Room Technology
Green Hotel Room Design
Many hotel rooms are expanded with large decks and patios and nature is brought inside in many ways. Wood and stone design elements, greenery and indoor waterfalls are just some of the elements seen in hotel design. Natural and sustainable building materials, large windows for natural lighting, green walls and green roofs are seen throughout newer hotels.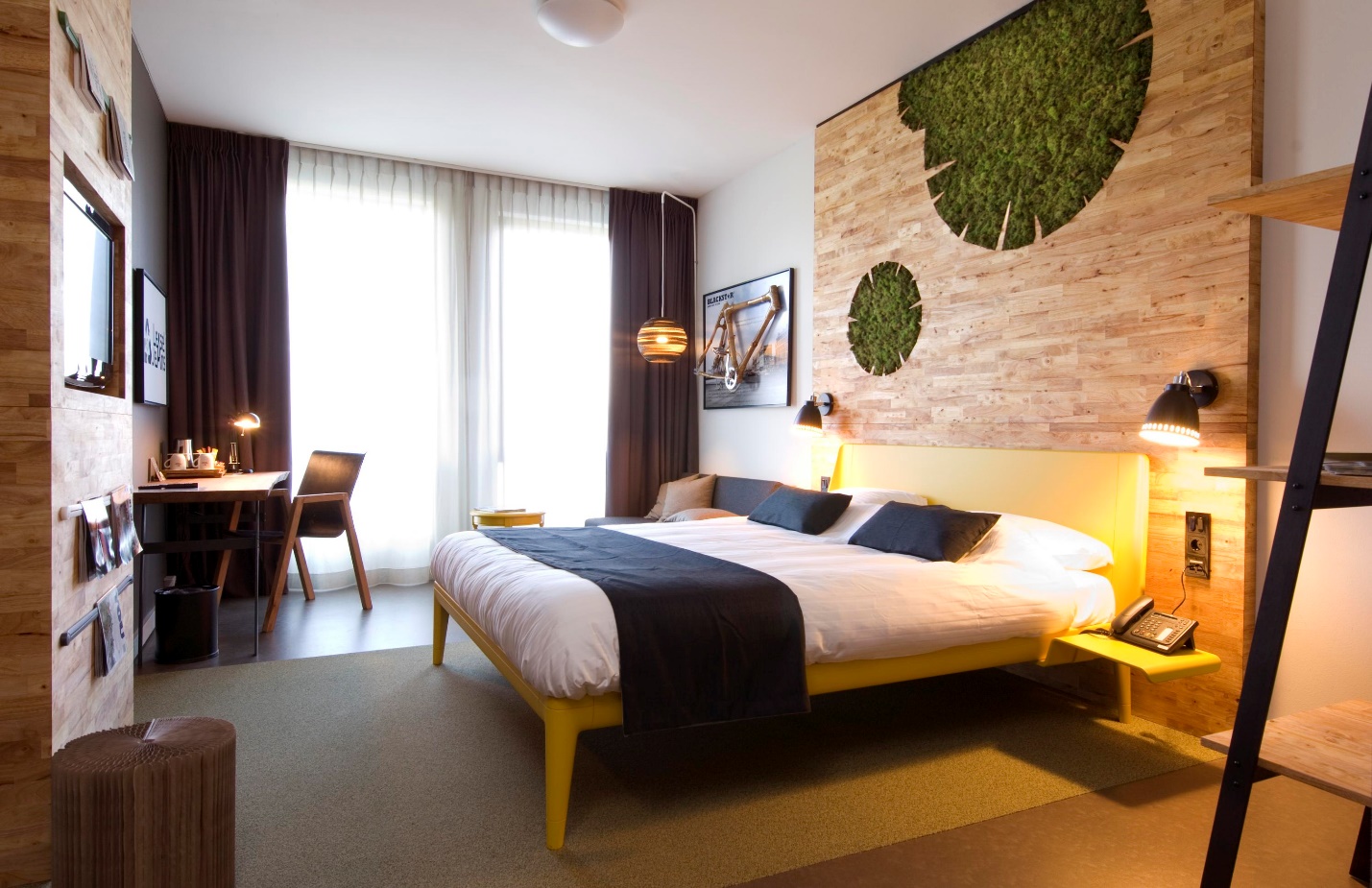 Green Hotel Room with Natural Light, a green wall and sustainable materials